The difference between an employee and an employer is that employees work for the organization, and employers pay them for providing services. An employer is the authority or company which hires the employees and an employee gets a job based on desired skills demanded for a particular job.
Employer Vs. Employee
Who is an Employee?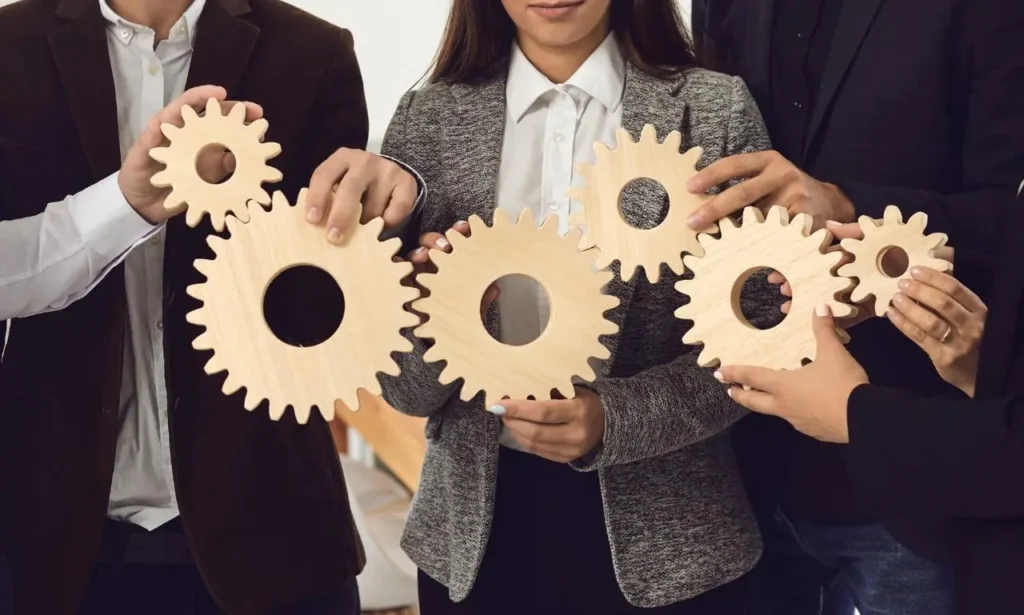 An employee is an individual who is appointed or hired by an employer.The employer supervises an employee to perform his or her tasks efficiently.In addition, an employee must obey the rules of his or her managers. As an employee, you can receive health insurance, a retirement plan, and other benefits.
A worker must work hard and prove him/herself for working long term in a company. It takes great hard work to make a good impression in a company. An employee must fulfill his or her duties with loyalty and dedication.
A job is something we all strive for,some jobs are suited for the employee, while some for employers. Learn about the difference between employee and employer here!
Categories of Employees
Categories of employees are divided into different groups:
Part-time, full-time, and temporary or seasonal employees. These categories of employees are further divided into hourly employees and salaried employees.
1. Part-time Employees
A part-time employee is a person who works 4 to 5 hours a day. Generally, students prefer part-time jobs to polish their skills or to manage their monthly expenses.
Students can benefit from a part-time job by expanding their network and connections with experienced people, which will help them to build their careers. Such employees are considered hourly employees who get pay on their hourly work basis.
2. Full-time Employees
A full-time employee is a person who regularly works on 9 to 5 jobs. Such employees fall under the category of salaried employees. They received a fixed amount of salary from their company.
A full-time employee can get great benefits and opportunities, such as an increase in salary and promotion. They can facilitate them with health assurances and pension amounts after retirement.
3. Seasonal and Temporary Employees
The duties and responsibilities of seasonal and temporary employees are almost similar. They are hired for a specific period in a year. They work for 3 to 6 months a year.
Seasonal employees can build their resumes and CV by adding their experiences of the organizations. Employers hire such employees to minimize the pressure of workload and to generate optimal outcomes.
Read more: What is the Difference Between Work and Power?
Who is an Employer?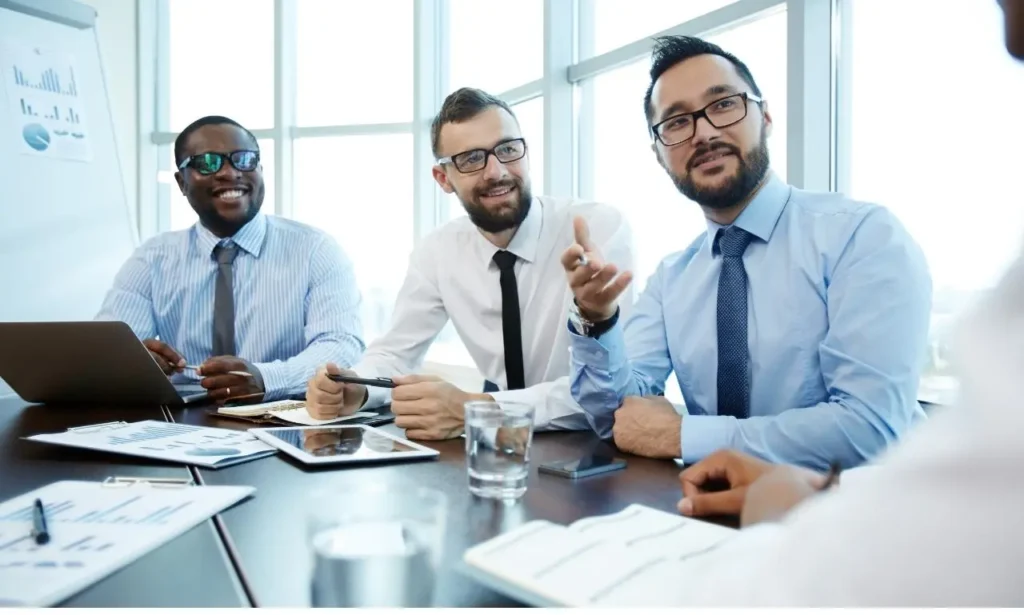 An employer is an authority, organization, or person who appoints employees and pays them for their services. An employer always demands the best services for its business. An employer manages all legal documentation and employment policies.
Initially, they identify the basic requirements and vacant positions in their organizations. Later on, they publicize job positions using commercials and advertisements on social media and the official job websites of LinkedIn.
Afterward, candidates reach out to organizations for interview sessions. After the interview, managers select the best candidates based on their eligibility criteria.
The difference between employee and employer can be more clear with example:
The waiter staff of McDonald's are employees while the head of the McDonald's is an employer.
Categories of Employers
The categories of Employers are further divided into public, private, and joint employers.
1. Public Employers
Public employers are public corporations providing governmental facilities to employees with fundamental rights.
2. Joint Employers
Joint employers are more than two to three employers who build a company together with the vision of succeeding. They use their different skill sets and strategies to compete in the market and share the overall profit.
3. Private Employers
Private employers are private companies or authorities not part of governmental agencies.
Responsibilities of Employee Vs. Employer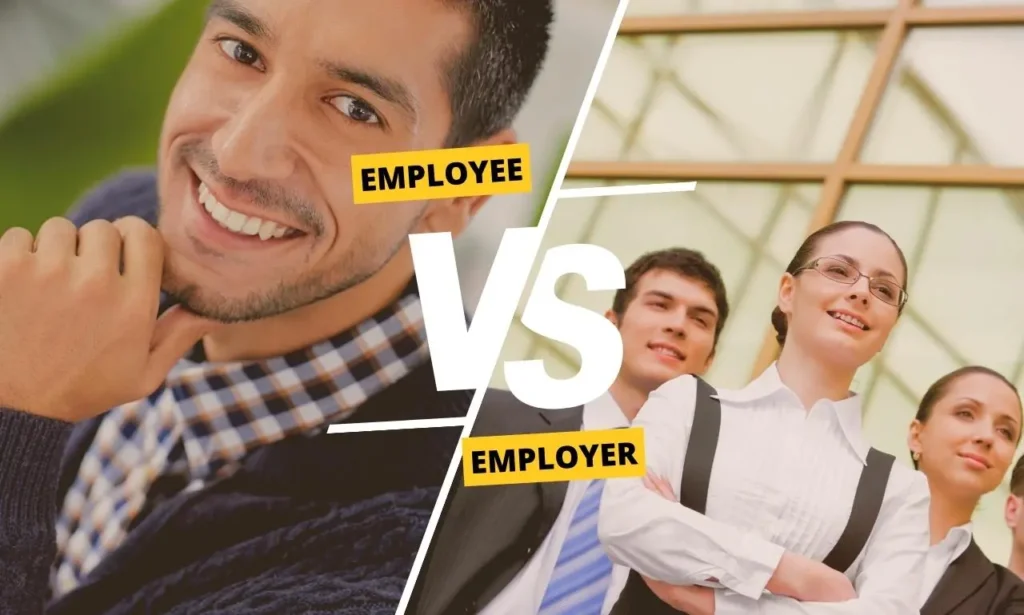 Key Responsibilities of an Employee
To accomplish their tasks on time.
To be focused and disciplined.
Use machinery and other tools carefully.
Key Responsibilities of an Employer
It is the fundamental responsibility of an employer to select capable and skilled employees to increase the productivity of their business.
An employer must analyze the employees' daily tasks and guide them in the best possible ways in case of any blunder or error coming from the employees.
Furthermore, an employer must arrange a secure working environment for the employees.
A supervisor must provide safety training to employees.
An employer should keep encouraging the employees when they complete their tasks within the given time.
Motivating employees will increase their motivation and make them work harder to be more productive.
An employer should identify the weak points of their employees and train them to maximize their performance.
Employers must adopt a habit of active listening and problem-solving to create a peaceful workplace for employees.
An employer must provide feedback on employees' work performance to improve their performance.
Difference Between Employee and Employer
Highlighting the comparison between employee and employer in the following table.
| | | |
| --- | --- | --- |
| Attributes | Employees | Employers |
| Role | An employee is a person who provides services to the company for increasing the outcome and in result earns a specific amount. | An employer is a person who enlists and appoints employees for his company to increase productivity and compensate the employees on time. |
| Responsibility | An employee has to complete and deliver the project in a given time. | An employer has to make sure that a good work environment is given to employees and all basic needs of employees are fulfilled. |
| Authority | Employees can have authority to guide and control their junior employees. | Whether employers have the full authority to control all employees and staff. |
| Types | Employees can be categorized into part-time employees, full-time employees and seasonal and temporary employees. | Employers can be categorized into public employers, private employers and joint employers. |
Conclusion
The main difference between employee and employer is that the employee has only the authority to guide their subordinates while the employer has the power over all the employees. Employee and employer equally depend on each other to maximize the company's outcome.
We hope you have a good experience in understanding the article "difference between employee and employer." We would also love to hear about your experience and valuable feedback reviewing this article.
Read more: What is the Difference Between Entrepreneur and Entrepreneurship?